Whether you're a PT student, new grad or an experienced PT looking to make a career switch, choosing the right PT setting and specialty may seem overwhelming. Even for experienced PT professionals, it's easy to get caught up in the day-in-day-out crunch of your job and forget that there are more options available to you out there. The variations of practice settings, specialties and diversity of patients in the field of physical therapy are often unrecognized.

The common assumption is that physical therapy jobs merely focus on helping injured or recovering patients regain their mobility. However, this is only one type of physical therapy work. While this is a critical component of physical therapy, there are a variety of other fascinating subcategories of PT that are in demand. As a whole, the practice of physical therapy varies based on the specialized needs of the patient. For example, a patient recovering from a stroke requires different care than an athlete recovering from an injury.
If you're looking for a PT career change or are exploring the PT settings and specialties that are out there, use this as a brief refresher course to the career options available to you as a physical therapist.
Various Practice Setting for Physical Therapists
Although some physical therapist practices in hospital, over 80% of all PTs practice outside of hospital settings. Here is a list of the most common practice settings for physical therapists.
Acute Care: Involves patients who are admitted to short-term hospital care for reasons such as accidents, surgery, illness or trauma recovery. The goal of acute physical therapy care is to assist the patient in gaining back their medical stability.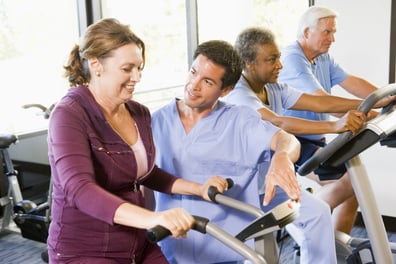 Rehabilitation Hospital: Provided to patients admitted to a rehabilitation facility unit. The goal of rehabilitation physical therapy is to improve the patient's ability to care for themselves. In rehabilitation therapy, patients typically spend three hours or more per day in physical therapy.
Extended Care/Skilled Nursing: Provided to patients that are admitted to facilities that provide long-term nursing care or rehabilitation for elderly patients.
Outpatient Clinic/Private Practice: The most common physical therapy setting in which patients visit a physical therapist in an office, clinic or other facilities to address neuromuscular and musculoskeletal (orthopedic) injuries and impairments.
Preschool/School: Provided to students in educational environments including preschool, elementary or secondary schools.
Sports/Fitness/Wellness: Provided to individuals in sports training facilities with a focus on preventing injuries and promoting wellness, as opposed to injury recovery.
Hospice: Provided to hospice patients in the last phases of an incurable disease to help them with maintaining their functional abilities for as long as possible while managing pain.
Research Center: In this setting, physical therapist conduct research studies aimed at improving patient care and improving the body of knowledge in the field of physical therapy.
Physical Therapy Specialties
Not only do physical therapist use their skills in a variety of setting, but they can also become specialized in a specific practice area. There are a variety of physical therapy specializations, which can be achieved by practicing physical therapists that meet the requirements set by the American Board of Physical Therapy Specialties. These specializations include:
Cardiovascular and Pulmonary Certified Specialist: Focuses on assisting patients who suffer from cardiovascular and pulmonary conditions such as COPD, pulmonary fibrosis and heart attacks. The goal of cardiovascular and pulmonary physical therapy specialists is to increase the patient's endurance and their overall functional independence.
Geriatric Certified Specialist: Focuses on assisting older adults who suffer from conditions such as arthritis, cancer, joint replacement, osteoporosis, balance disorders and Alzheimer's disease. The goal of geriatric physical therapy specialists is to reduce pain, accommodate physical limitation and help store mobility.
Neurologic Certified Specialist: Focuses on neurological conditions including brain injury, cerebral palsy, multiple sclerosis, spinal cord injury, stroke, Parkinson's disease and Alzheimer's disease. The goal of certified neurologic specialists is to assist patients in adapting to visual, mobility, balance and muscle loss impairments in order to maintain activities of daily life.
Orthopedic Certified Specialist: Focuses on restoring the function of patient's musculoskeletal systems including joints, tendons, ligaments and bones.
Pediatric Certified Specialist: Focuses on the needs of infants, toddlers, children and adolescents suffering from diseases or injuries including birth defects, developmental delays, genetic disorders, head trauma, limb deficiencies, orthopedic disabilities and muscle diseases.
Sports Certified Specialist: Focuses on patients recovery after an injury or surgery in order to retrain the athlete to regain mobility for running, throwing, jumping and sport-specific activities.
Women's Health Certified Specialist: Focuses on women's issues such as obstetrical care and pelvic floor dysfunction. The goal of women's health certified physical therapy specialists is to identify and address causes of issues, create customized treatment programs and improve the overall quality of life.
How to Choose the Physical Therapy Career That's Right for You
When considering a PT career change or exploring the options available to you, the best advice to help you make this decision is to consider your big picture goals as well as your personality. Take a personality test like Enneagram or Myers-Briggs to provide insight into different aspects of your nature/persona. Also, finding industry mentors across a variety of specialties can help provide insight into the daily happenings and demands of the job. Working with a mentor allows you the opportunity to explore new realms of PT further to determine what is the best fit for you.
No matter what kind of physical therapy you are interested in, General Healthcare Resources can help you find a physical therapy job that matches your needs, skills, schedule and career goals. Apply today or contact one of our experienced Therapy Staffing Specialists to get started!