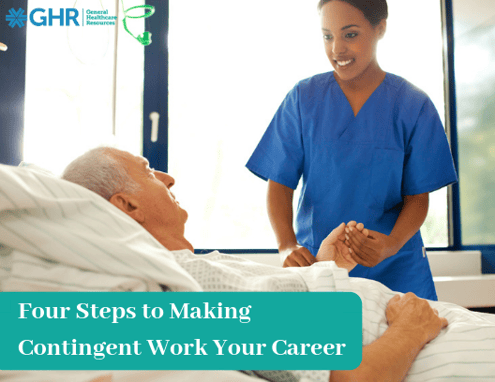 Unlike other industries, healthcare is unique in that the demand for contingent work is steadily rising. As the American population continues to age and the need for registered nurses, LPNs and assisted living aides grows, hospitals and other facilities are finding that they must increase their staffing efforts in order to keep up with the increasing workload. Consequently, more and more hospitals and other healthcare facilities are turning to contingent work as a way to meet patients' care needs and expectations.
In the past, contingent work might have been considered a temporary employment option to get your foot in the door before something better and more permanent came along. However, with countless options available to healthcare specialists today, it's surprising how easy and viable it can be to make a career out of contingent work. Working as a full-time contingent employee requires not just skill and knowledge in healthcare, but also sufficient organization and flexibility. Many individuals who work as contingent employees find that they have a better work-life balance and have a more diverse range of duties or projects to work on. If contingent work sounds like something you may want to explore, here are a few tips to help you make a career out of contingent work.
Have Clearly Defined Career Goals
As a contingent employee, you are ultimately your own boss. As a boss, you want to make sure you manage your career. This means you need to take the time to consider what your career goals are, both in the short-term and long-term. They don't necessarily have to be complicated or elaborate--they just need to provide a roadmap for what you want to accomplish and help motivate you to continue doing the work that you do. No plan is etched in stone, and your career goals will change as your career advances, but by always having a firm understanding of what you want to accomplish, you will be able to be more deliberate and make better decisions on the settings and positions you want to work.
Stay Organized
A career as a contingent Registered Nurse or LPN means you need to pay closer attention to the details in your life, such as health insurance, 401 (k) plans, educational opportunities, managing your finances, and other important areas. Staying organized is key to success in this department. Working with a leading staffing agency can really help, but it is up to you to make sure you are meeting your life-needs. Because of this, it's important to have a firm understanding of your personal and professional needs, including such areas as what your living expenses are, what benefits you want, CEU requirements and other work-related realities you need to address. Each job you work will vary in pay rates, benefits offered and other perks provided. By being organized in your approach and understanding your personal requirements, you'll be able to stay on top of the "business side" of contingent work and make solid career decisions.
Diversify Your Skill Set
In healthcare, it is not uncommon for an individual to specialize in a specific area of treatment or care. Highly specialized knowledge or expertise in a particular area can be an extremely beneficial contribution to a hospital. As a result, it is essential to continue engaging in training or educational opportunities to add skills and experiences to your resume. Also, as a contingent nurse you are able to expand your experience and knowledge with almost every assignment you take. Since you control the positions you accept, you're able to focus in on areas of specialization that both interest you and provide you with higher paying assignments and long-term security. With a broader range of skills or experience, you are much more marketable and more likely to qualify for a steady stream of assignments you enjoy.
Work with a Reliable Career Partner
Creating a nursing career through contingent work does not mean you have to do it all on your own. But, it does mean you need to carefully select the staffing agencies you work with. Healthcare staffing companies come in all shapes and sizes – from large, national organizations to small, local boutiques each having their own strengths and weaknesses. But there are a few things to consider when evaluating your options. Start with looking for an agency who can match you up with assignments that meet your career goals. Different agencies can vary dramatically in the number of opportunities they offer and the facilities who are their clients. Also, find someone who understands the geographic area you're interested in. They'll have a much better idea of local hiring trends, pay rates and work conditions at local facilities. Finally, make sure that the benefits program of the agency meets your basic needs. Yes, some agencies offer fun and exciting perks, but you have to make sure your fundamental requirements are met first, then get excited about those special extras.
There has never been a better time to consider contingent work as a full-time approach to building your nursing career. With a little bit of preparation and by choosing the right career partner, you can enjoy an exciting, rewarding and profitable career.