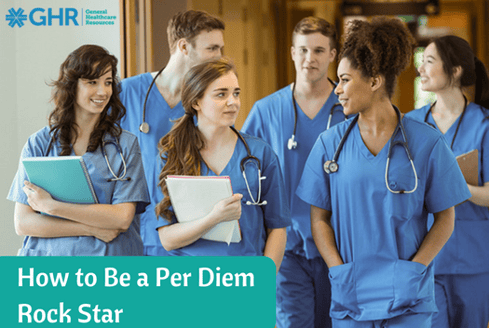 As a per diem employee, there are small but effective ways you can easily make a positive influence on your unit in a short period of time. Even while on the most short-term jobs, client companies are impressed by per diem employees who treat their assignment as a full-time job. Here are the steps you can take to establish an excellent reputation for yourself as a per diem worker.
Always put forth a positive attitude so your coworkers will feel comfortable approaching you and helping you navigate. A positive attitude and uplifting energy can quickly become contagious. Compliment others on their work, offer help or provide advice when warranted. Empowering those around you will ultimately make you feel good as well.
The most successful per-diem employees are ones who are open-minded, adaptable and develop a "go with the flow" attitude. Change is an essential component of per-diem work as you are working in a new environment regularly. Remember, you are there to work within the processes and procedures of the client facility, the more you embrace that, the more valuable you will be to the facility.
As a per-diem employee, you are exposed to a wide range of different management styles and company policies and procedures. To ensure you are performing your duties in line with the organization's standards and practices, it's critical to be a good listener when your leader or coworkers are teaching you about the position. Remember that the full-time staff knows more about their unit than you do, so don't be afraid to ask questions in order to clarify your duties and provide the most value to the organization.
Being willing to go above and beyond your job duties will always make you stand out and leave a great impression on your employers. Small tasks in which you take the initiative can not only get you noticed by management but also may encourage your coworkers to step their performance up as well. If there's extra work to be completed, volunteer to take it on.
Per diem employees are typically expected to be able to hit the ground running on day one. In order to be successful as soon as you start a new assignment, it's critical to show up early, be prepared, take notes and ask questions.
Even though you are only there for a short while, get to know your co-workers while on a per diem assignment. It's always a good idea to engage and establish a trusting relationship with your unit and management team. In addition, communicating with your coworkers can provide insight to help you better perform your duties, make you feel a part of the team and ultimately make the assignment much more enjoyable for all. And, you never know who may be able to provide a valuable connection for you in the future.
Follow our tips and you'll establish a positive reputation for yourself while adding value to the units you are assigned to. It's important to realize that even though per diem assignments are temporary, they provide the opportunity to network, gain experience and make a lasting impression.
For over 25 years, GHR has placed quality healthcare professionals in nursing, therapy, pharmacy, educational and behavioral health fields. If you're seeking per diem opportunities, contact our staffing specialists today to connect you to new opportunities!