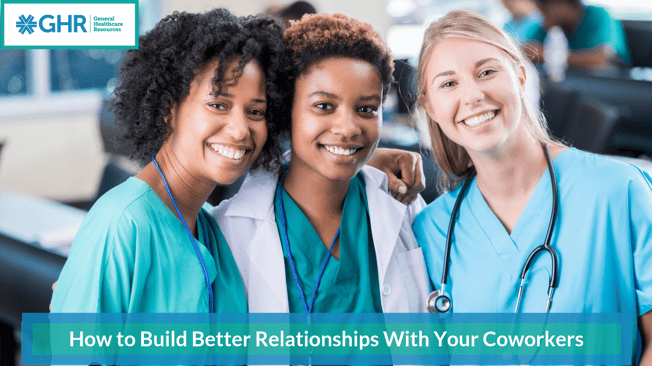 Working in healthcare is unlike any other career path. Whether you're a nurse, support staff, supervisor or practitioner, there are stressors within the industry that are undoubtedly unique. As a result, some of the best people who can provide support throughout your workday are your coworkers. For this reason, having strong relationships with your coworkers is essential.
A good relationship with coworkers can be your key to success
There are dozens of reasons why having a good relationship with your coworkers is the key to success. You'll likely be more productive during your workday, increase your chances for promotional opportunities, as well as feel happier and more satisfied overall. Most importantly, you'll be in a better mindset to provide the best care for your patients. By fostering strong relationships with your coworkers, you're better able to focus on providing patients with exceptional treatment, rather than focus on negative interactions with your colleagues.
Respect, trust and communication are key
Whether you're attempting to build a more amicable relationship with your boss, subordinate or equal, work relationships consist of the same basic characteristics: respect, trust and communication. It will be difficult to form any kind of relationship with your coworkers if you don't respect their time or needs first. At its core, respecting your fellow nurses, doctors and support staff means that you value their ideas and their contributions, even if you don't necessarily agree with them. Staying open-minded about your colleagues allows you to continue evolving your daily tasks and brainstorm creative solutions to problems you may face.
Respect
Respect goes beyond listening to another coworker's input. It involves respecting both the shared spaces in the hospital or facility and relationships that your coworkers have with others. Be sure to clean up after yourself in the breakroom, restock supplies when you use the last of them, or return equipment in the condition that you received them. Perhaps most importantly, avoid gossiping about other coworkers. Gossip only perpetuates tension in the workplace, and you risk the possibility that someone will catch wind of the comments that weren't intended for them to hear. If you're faced with a conflict with someone at work, it's best to approach that individual and voice your concerns before the problem exacerbates beyond repair.
Trust
When you demonstrate respect for your coworkers, you also begin to build trust. Having trust in the workplace allows you to be open and honest with others about your thoughts or opinions. In other words, you can be more direct about your thoughts or goals about a particular circumstance. There are several things you can do to encourage trust between yourself and your fellow nurses or supervisors. For instance, be sure to keep any promises you make to other coworkers, such as meeting deadlines, covering another's job duties as a favor, or helping complete a project. Another easy way to maintain trust among coworkers is to take responsibility when mistakes are made. When you try to shift blame on another coworker, you're not only making it difficult for that individual to trust you again in the future, but you're also ruining a potential workplace relationship. Working in healthcare requires you to be able to cooperate and work well with others. Throwing someone else under the bus for a mistake that you should take responsibility for will inhibit collaboration between your coworkers.
Communication
The last tool that will help you build better relationships at work is consistent communication. In healthcare, communication is especially vital to ensuring that patients get all the care they need, or ensuring that your day runs smoothly. Communicating can be as simple as checking with a superior to confirm you performed a particular task satisfactorily or asking another colleague if they could use any help. However, good communication also means speaking up when something goes wrong or when potential problems arise. This way, problems can be addressed early, and your coworkers won't feel ambushed or blind-sided later on down the road.
Remember, communication is a two-way street. This means that when a coworker attempts to communicate something to you, you actively listen to what they're saying so that you can either perform their request correctly or respond with the appropriate answer. Your coworkers will take notice when you listen to what they're saying and will appreciate your hard work.
More Ways to Build Better Relationships With Your CoWorkers
There are a few other things you can do to boost your relationships at your hospital or facility. Make sure you go out of your way to thank coworkers when they help you and show your appreciation as much as possible. Share credit with others if you collaborated on a successful endeavor. If you are in a managerial position, take time to recognize the efforts of your subordinates and express your gratitude for their accomplishments.
All of these acts of kindness are ways to generate a positive atmosphere in the workplace and counter negative interactions. Staying positive will strengthen your work relationships and make others enjoy working alongside you. By devoting a few minutes every day to building workplace relationships, you can make you work more enjoyable and rewarding.