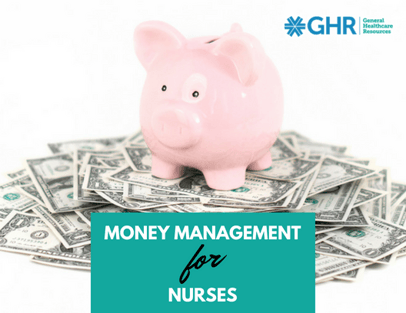 As a nurse, you are typically busy taking care of everyone else. It's critical to take a moment to make sure you are taking care of yourself--especially your financial future.
A career as a nurse can be incredibly fulfilling, even more so if you learn how to manage and save your money properly. While nurses typically enjoy job security, it still pays to manage your income in case of emergencies, save for retirement, pay off student debt sooner, or simply just figure out your finances for a more secure future. Here are our tips for financial wellness and money management for nurses.
Saving for Retirement as a Nurse
While many hospitals have had to eliminate or reduce their pension and retirement programs as a result of budget constraints, it's critical for nurses to save for retirement as soon as they begin their first position. When it comes to retirement saving, the earlier the better, as even small amounts over time can add up.
However, choosing the correct retirement saving vehicle is also important for your planning. This all depends on your needs and nurse employment status. For full-time RNs employed at healthcare organization where your employer contributes to a 401(k)-retirement account, this may be the best option for you. If so, be sure to max out that benefit as it's free money. For travel nurses or part-time nurses, setting up an IRA (individual retirement account) may be the smarter, more flexible way to save for retirement as they can easily be taken with you regardless of your employer.
Pay Off Any Credit Card Debt Immediately
Your first priority in taking control of your financial well-being should be to pay off any outstanding credit card debt. If you don't pay the monthly minimum, your credit score will plummet, which will make it challenging to get a good rate on any car loans or mortgages in the future. If you don't pay off the entire balance each month, you're merely throwing money away on extremely high-interest rates. If you have a significant amount of credit card debt from multiple card providers, it may be in your best interest to consolidate them for a lower interest rate.
Consider Refinancing Your Nursing School Loans
The average nursing student graduates with $30,000 in student loan debt. For those nursing professionals with a Master's degree, the median debt ranges from $40,000 to $54,999. While taking loans to pursue your nursing education was a good investment that is sure to pay off, high monthly payments and inflated interest rates can be an ongoing financial burden. Consider refinancing your loans which could get you lower interest rates and help make your monthly payments more manageable.
Save an Emergency Fund
Unforeseen expenses happen. If your car breaks down, would you be able to pay for repairs? If you have a medical emergency and are out of work, would you be able to pay rent or your mortgage? Before you spend money for other goals and purchases, save at least three months of living expenses. Make saving easier by setting up automated monthly transfers from your checking account into your savings.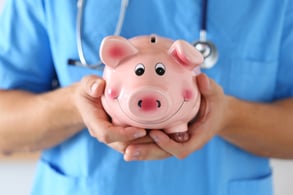 Create a Monthly Budget on a Nurse's Income
Saving for the future is all about getting into a steady routine by creating a monthly budget and balancing monthly expenses. To create a monthly budget, nurses should add up all of their necessary monthly expenses against their monthly earnings. Creating a budget provides a clear understanding of your financial situation. If you don't have enough income left over to put a little aside each month, you need to rethink your lifestyle and revisit your expenses.
Consult with a Financial Planning Professional
Many healthcare organizations and physicians' offices now host financial planning or retirement planning programs and informational sessions for their on-staff nurses. A little professional advice, even if it's simply 30 minutes once a month, can go a long way.
If your healthcare organization doesn't currently offer financial planning resources, make a suggestion for them to consider doing so. Financial planning programs not only help nurses understand the value of their benefits but can also ease worry and secure a brighter financial future.
As a nurse, money management skills are critical in order to have great financial health. On a day-to-day basis, make sound financial decisions like maintaining a good credit score, sticking to your budget, and minimizing debt will help secure your financial future.