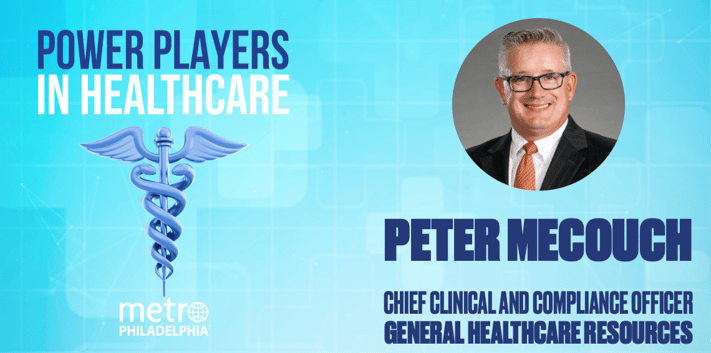 Plymouth Meeting, PA, November 1st, 2022 - We are proud and honored to announce that Peter Mecouch, GHR's Chief Clinical and Compliance Officer, has been named one of Metro Philadelphia's 2022 Healthcare Power Players!
Metro Philadelphia is the city's leading daily newspaper, featuring topics from breaking news, entertainment, healthcare, politics, and education to dining, nightlife, real estate, and getting around Philadelphia.
Each year, Metro Philadelphia recognizes over 80 professionals as Power Players in Healthcare that set an example for other experts across the nation by demonstrating innovation, dedication, and passion in their work to help others. From physicians to executive leaders, these healthcare professionals are working hard to improve patient outcomes and promote a preventive approach to care.
At GHR, Peter provides leadership on a clinical and professional level to all business lines and acts as supervisory counsel to clinicians. Peter also aligns selected divisions with Joint Commission expectations to maintain accreditation. While recognizing trends and opportunities for quality improvement, he also helps to provide resources for educational opportunities to clinicians.
Beyond his role, Peter brings an element of kindness and dynamism to our GHR team. Peter has profound expertise in the industry, paired with a communication style that sets him apart. Peter's compassionate leadership is an invaluable asset at GHR.
---
Read Peter's Highlight in Metro Philadelphia's Power Players in Healthcare:

PETER MECOUCH
MBA, MSN, RN, Chief Clinical and Compliance Officer, General Healthcare Resources
Peter Mecouch is a seasoned nursing leader with over 25 years of nursing experience. He practiced clinically in both nephrology and critical care nursing. Peter attended Roxborough Memorial School of Nursing and holds a master's degree in Business and Nursing. In his role at General Healthcare Resources, he provides clinical and professional leadership to all business lines and aligns select divisions with Joint Commission standards to maintain accreditation.
What can Pennsylvania policymakers do to ensure equitable access to quality healthcare?
Further supporting and implementing the Nursing Compact license within the state would help bring available nurses to Pennsylvania in a much more fluid and timely manner. Discussions at the state level supporting national nursing licensure would also better improve the ability to support both urban and rural needs throughout the state.
When and why did you decide to pursue a career in healthcare?
I entered nursing school right out of high school. I knew early on that I wanted to be in a field where I could apply my interest in science and be someone providing care to others. I had strong influences from my mother, my aunt, and my grandmother, who were all nurses.
How do you see the healthcare industry evolving in the next five years?
I believe that healthcare will become available through more non-traditional access points. I am hopeful that companies, healthcare providers, and leaders will meet the community where they need to be met. I also believe that a strong focus on preventive care will be incorporated into these alternate access points.
---
More From Peter Mecouch
Peter speaks alongside the Department of Health at the LTC Program Press Conference:
Join us in congratulating Peter on being recognized as a Healthcare Power Player in the comments!
---