There is a reason Gallup Inc. ranks nursing as the most trusted, honest and ethical profession in the country. After all, patients, and their family and friends, see you as their main point of contact for healthcare insight and support. Earning and maintaining that trust goes beyond delivering quality care. It also depends on building positive relationships with those you come in contact with. Here are six "real life" tips to keep in mind when dealing with patients to help make those relationships stronger.
Connect with your patient
An emergency hospital visit, a scheduled surgery or even a routine check-up can often cause feelings of anxiety, stress and uneasiness for patients. A nurse's role can greatly help a patient through a difficult situation. Even though nurses run a mile a minute, taking a little extra time to connect with patients can make a big difference. Tell a personal story or anecdote. Show empathy. Don't look at the computer when a patient is speaking. Pull up a chair to show that you have time to listen to concerns and needs. Even three extra minutes in patient's room or bedside can make a huge impact.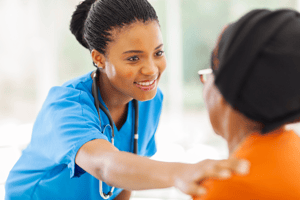 Make patient education a priority
Patient education is a vital step in helping patients understand their condition and become responsible for their health. When communicating, use layman's terms and visuals whenever possible. Take your time when speaking and use an individualized approach. If a person is medicated, stressed or tired, they may not fully absorb important information. Quiz them on the medication and recovery process, or use a teach-back method. A successful education session can go a long way and improve the likelihood of positive outcomes.
Remember the basics
As nursing practices become more technical and complex, don't forget about the foundational and essential elements of nursing care. Don't leave behind the basic techniques you learned in nursing school. When faced with an emergency situation, this idea holds even more true. Take a deep breath and remember your rudimentary learnings. The rest of the assessments will stem from there.
Treat your patient as a person, not a diagnosis
Always remember that the person you are caring for is a sister/brother, daughter/son and/or mother/father. Don't treat your patient as another name on the chart. Never refer to them by their room number, bed number or diagnosis. Call them by their name and let them know you care and will do everything in your power to make sure they receive the best care possible. Treat the patient, not the illness or disease.
Don't forget about family
Sometimes communicating with a patient's loved ones is just as important as communicating with the patient him/herself. Just like the patient, the friends and family are often nervous, scared and impatient. In some cases, the loved ones can be angry or confrontational. In these situations, keep an open line of communication, stay calm and treat them with kindness and respect just like you would the patient. Friends and family appreciate transparency, layman's terms (when needed) and knowing that their friend/family member is receiving great care.
Take care of yourself
As obvious as it may seem, don't forget to take care of yourself. Whenever possible, take a moment to drink water and have a snack. Have a seat when chatting with patients or charting. Get enough sleep and exercise on your off days. Have a go-to person you can talk to at the end of a hard day. Make sure you are being taken care of so you can be at the top of your game for your patients.
Interacting with and caring for patients sometimes takes some practice. Make an effort to go above and beyond with your patient interactions by remembering our easy steps. And, never forget the reason you became a nurse in the first place.