If you're reading this, it's probably time.
And, you're not alone. Almost every Registered Nurse reaches that point in his or her career…you know, or at least suspect, it's time to move on. It's time for a new job.
It's a decision many nurses postpone as long as possible. Even those who actively dislike their job, don't look forward to the process of looking for a new one. It's filled with tough decisions, feelings of uncertainty, and the fear of change.
But here's the great news: As a nurse, you don't have to look for a new job. You have the unique ability to experience a new job! And get paid for doing it.
What's the secret? Easy, it's Per Diem work.
Per Diem work is perhaps the most misunderstood work option available to Registered Nurses. And, it's one of the best ways imaginable to find your next job. The key is to understand how to put this option to work for you.
Leverage Your Schedule
Depending on your current work schedule, you're probably able to take advantage of Per Diem assignments without giving up your full-time job.
Most RNs are able to easily fit in a shift or two of Per Diem work each week. This schedule flexibility allows you to use Per Diem assignments as a way to explore your employment options with no down-side risk. You can enjoy the security of your full-time job (salary, benefits, etc.) while using Per Diem to conduct an in-person job search.
Even if you decide to leave your full-time position or cut back on your hours, Per Diem staffing agencies can provide you with the hours and benefits you need to dedicate more time to your search.
Target Specific Employers
Do you already have a pretty good idea of the facilities and systems in your area that you might like to work for? Then by all means, target them.
Most healthcare organizations use Per Diem nurses to some extent. And what better way to learn more about the culture, chemistry and work environment of a company than to actually spend time working for them? Those shifts spent in that facility will give you first-hand insight that no amount of interviews could ever match.
Even if you don't know specific employers you want to target, let your recruiter know what you're looking for in your next career step. More than likely, they can help you develop a target list based on their knowledge of the local community.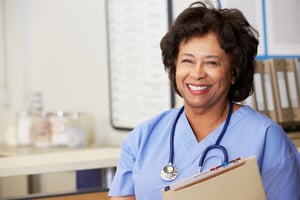 Introduce Yourself In-Person
Actions speak louder than words. Working Per Diem for a future employer is the perfect way to show them what you can do and prove yourself as an employee.
Think about this from the facility's viewpoint. They need talented nurses to fill their openings. Hiring a new employee takes time, money and resources. And, in the end, they're still hiring someone that might or might not work out.
As a Per Diem employee, every shift you work proves your ability to be successful in their organization. In fact, you become even more valuable the more shifts you work as you build internal relationships and become more experienced in their processes, procedures and systems.
Get Paid for Your Search
I suppose this is pretty self-explanatory, but seriously, how often do you get paid to conduct a job search? Don't forget that Per Diem assignments will often pay a better hourly rate than full-time positions due to patient coverage needs and benefit-relief compared to full-time employee expenses.
The Smarter Way to Find Your Next Job
If you're considering making a job move, you need to look at Per Diem assignments.
You call the shots. You decide where you want to work. You get to experience a variety of different employers and work environments. You show what a valuable employee you'd make. And, you get paid for doing it.
It is the no-hassle, no risk way to find a job that fits you perfectly.